BDO Alliance USA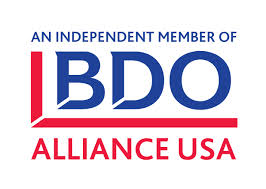 The Rybar Group is proud to be an independent member of the BDO Alliance USA. With over 175 alliance firms in over 400 locations, the BDO Alliance USA is a nationwide association of independently owned local and regional accounting, consulting and service firms with similar client service goals.
As a member of the BDO Alliance USA, we have access to the national and global experience and knowledge of BDO and other Alliance members. These collaborative relationships allow us to strengthen and extend the scope of our technical expertise and resources for our clients while maintaining our autonomy, high professional standards and personalized service.
The Alliance links The Rybar Group to the resources and knowledge of a national firm, while preserving our local ownership and operating philosophy. As an independent member firm, the BDO Alliance USA allows us to:
Enhance our client services and broaden our capabilities overall
Expand our national coverage
Gain greater technical knowledge in specialty areas
Utilize professionals with expertise in a wide range of healthcare areas
Access the most up-to-date technical information
Participate in the latest training programs
Provide our clients with key business contacts throughout the US
BDO has also recently launched a new blog, BDO Knows Healthcare, offering critical insights to help healthcare organizations maximize the positive impact of transformational change. Click here to access the BDO Knows Healthcare Blog.